Brisbane Messages On Hold
MESSAGES ON HOLD MUSIC ON HOLD ON HOLD SAMPLES AUDIO PRODUCTION
Professional On Hold Advertising
Telephone message and music on hold programs Brisbane are taking Brisbane businesses by storm. Why? Because they are effective, reliable and affordable. Plus they will help you sound much more professional to customers calling your office. Media Messages Brisbane is one of Queensland's leading suppliers of broadcast quality audio productions, designed and produced specifically for telephone on hold advertising.

Audio Production Specialists
Media Messages is home to 6 state of the art recording studios, and we also employ a very talented team of audio specialists who are dedicated to producing high quality audio productions for a range of channels.We have a team of expert copywriters, voiceover artists and audio engineers ready to work with you to create a compelling audio production for your telephone lines.
We have a large library of voice artists from around the world, and we also have a range of royalty free on hold music tracks and sound effects to select from. Media Messages will ensure your in-house audio advertising is exciting and sure to impress.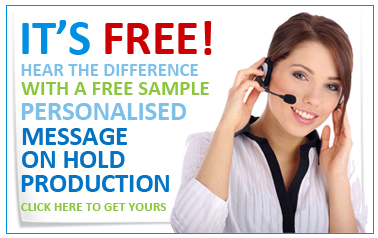 Try it For FREE!
On Hold Music and On Hold Messages are the most powerful marketing tools around, creating a professional sounding image for your business, while informing your caller about things they might not have known before.
Let us show you how easy it is with your very own custom demo
Why On Hold Messages?
Why waste valuable airtime? When you place a caller on hold, that time while they are waiting on hold could be used to promote your business' products, services and client event nights,promotions and current specials. Businesses often pay hundreds of thousands in radio advertising, so why not spend from as little as $8.95/week on advertising on air to customers who are already interested in your business. Telephone messages on hold, is not only a great educational tool, but will keep your callers entertained and distracted, plus it will give you an opportunity to inform them about products and services they may not already know about.

On Hold Client Sample:
In Australia, the average caller waits on hold for 43 seconds. That's 43 seconds of advertising time where you could be educating your callers about your business. Below is an example of one of our Media Message's Brisbane client's telephone message on hold script.
Message 1: Welcome to The Tackle Shop, where you can drop anchor and reel in the best priced fishing tackle and bait around Brisbane.
Message 2: At The Tackle Shop we believe the early bird catches the fish, which is why we open early during weekdays and even earlier on the weekends so that you can purchase your bait and tackle before the sun comes up.
Message 3: Pop in and see our range for yourself, we are located at the Caltex service center 1754 Gympie Road Caseldine, there's plenty of parking even for your boat! We are open every day except Christmas- Monday to Friday 5.30am to 6pm, Saturday 4am to 6pm and Sunday 4am to 4pm.
Message 4: At the Tackle Shop we're passionate about exceptional customer service as much as we are about fishing which is why our prices are so competitive, we won't be beaten on service or price!
Message 5: The Tackle Shop has much more than just tackle! We've got something to lure everyone in! From all forms of terminal tackle, lines, rods, reels and nets to foot wear, sun protection clothing, hats, sunglasses, crab pots, kayaks, eskies, boating accessories and much more!


Media Messages
2, 2 Spencer Road
Nerang, QLD 4211